In 1951, the foundation of the count Vittorio Cini, a Venetian senator, decided to create a centre intended to welcome close to 500 orphans of sailors, school to offer them a general education and a training in the professions of the sea.
The Italian Navy entrusted the Scilla, an old sailboat to the centre. But this one is too timeworn to serve as training ship. After some searches, the Giorgio Cini foundation discovers the Fantôme II, laid up in the island of Wight and for to sell.
So, the boat changed pavilion again and left for Venice where it is renamed Giorgio-Cini in memory of Vittorio Cini's son who disappeared in a plane crash on August 31st, 1949.
She underwent considerable alterations one more time: the rigging changed from the one of a full-rigged ship to a barkentine's one. On the deck, a big wheelhouse was built (its remains are visible on the current spardeck). The tweendeck was modified to welcome sixty children.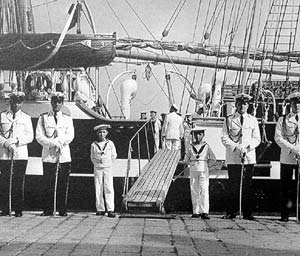 All year round, the Giorgio-Cini navigated mainly in the Adriatic Sea. On board, young men, 12 to 16 years old discovered life at sea and the sailor's profession in an almost military atmosphere.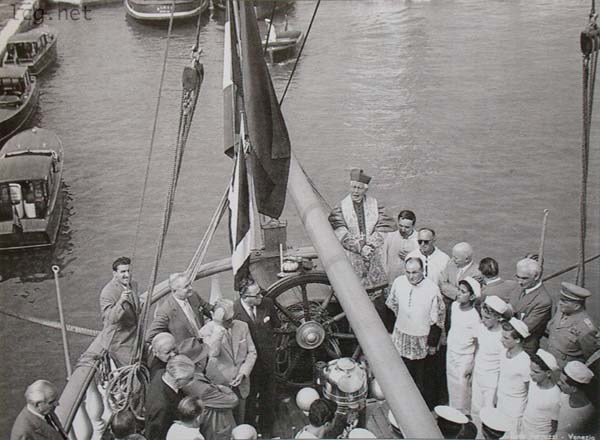 In 1965, the Giorgio-Cini was considered too old to achieve its mission of training ship in satisfactory conditions in regard of safety. She was replaced by a vessel given by the Navy.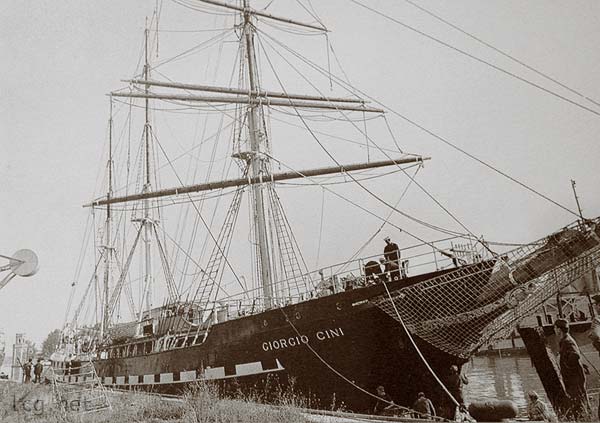 So, she stayed in quay on the Venetian island of San Giorgio Maggiore, the seat of the Foundation, expecting better days. She served temporarily as boarding school.
In 1972, the boat is given up free of charge by the Foundation to the carabinieris who wished to have a prestigious vessel and who were ready to invest in the necessary works to save the boat.
The Giorgi-Cini left for the shipyard, Cantieri Navali e pharmacy Meccaniche di Venezia (CNOMV). Both Bollinder's engines dating from the First World War were replaced by two 300-horses Fiat engines. The rigging was restored into a full-rigged one and the wooden high masting was changed for steel masts.
In 1976, the carabinieris had no more means to pay the invoices of the shipyard and gave up their training ship. She became the property of the shipyard which hoped to resell her to cover her expenses.
Site of the Foundation Giorgio Cini: http://www.cini.it/.
Site of the Istituto Professionale di Stato per l'Industria e le Attività Marinare Giorgio Gini: http://www.provincia.venezia.it/cini/.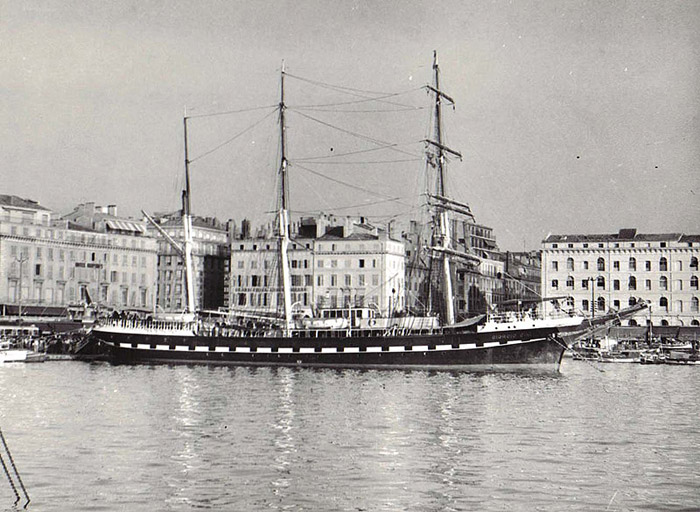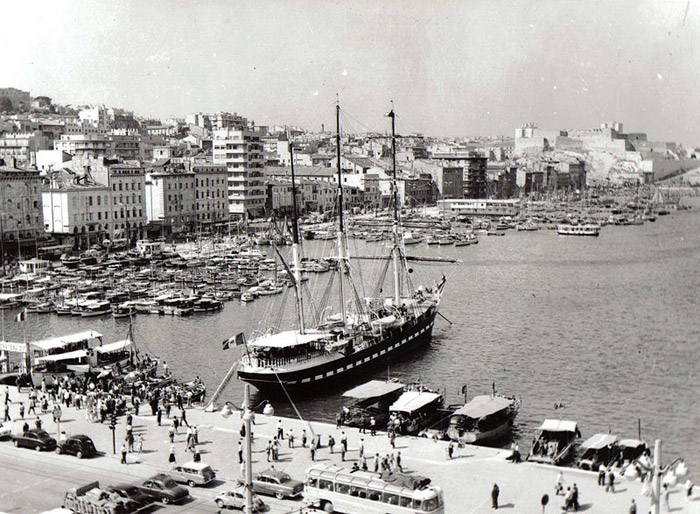 Le Giorgio Cini au vieux port de Marseille (circa 1955-1960).