In September, 1921, after less than four years of navigation in the colours of the duke of Westminster, the Belem is sold to the Irish brewer Ernest Guinness.
The boat is renamed the Fantôme II (like for his first ship, the Fantôme, Ernest Guinness chose to use the French spelling of phantom to name her. Many English sources made a mistake by calling her the Phantom II).
Le bateau rentre au chantier irlandais Harland & Wolf pour transformation [à confirmer]. Ce chantier de Belfast est connu pour avoir construit, entre 1909 et 1911, les deux paquebots de la White Star, l'Olympic et son sister-ship le Titanic.
Various works are made:
The strapping lad was made longer.
The interior was reshaped and the decoration redone, a bar was created, a big upright piano installed…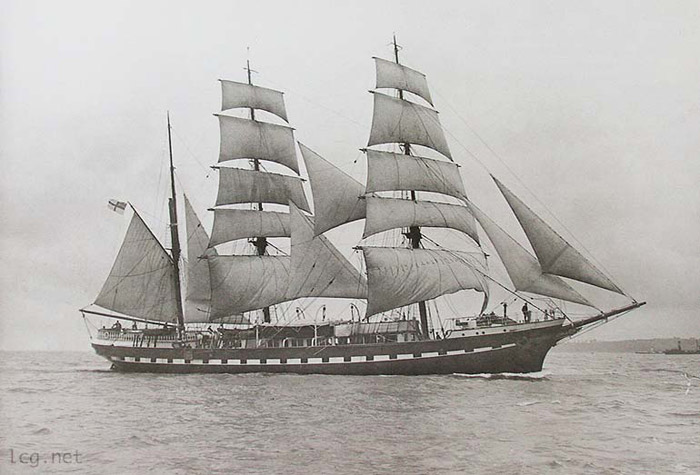 On this picture, notice some changes with regard to the Westminster years: small antannaes of telegraph appears to the top of the mainmast and the foresail mast. The line of sham ports stops before the bow. The carfts, the lower masts and yards are not painted in white any more, life jackets are moored to the balustrade of the back, etc.
The Fantôme II during a nautical rallye (with the HMAS Vampire D68, launched in 1919 - If somebody can identify the other ships, please send me a small e-mail quickly…).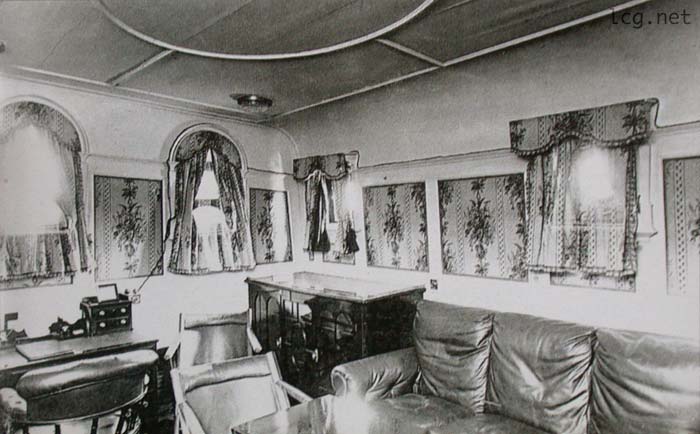 Lounge-office (maybe the captain's lounge, under the poop, on starboard).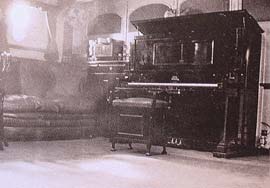 The impressive upright piano (at a place difficult to identify now)…
Guinness navigated all year long. Of the journeys, we should remember a tour of the world via Panama and Suez from March 29th, 1923 till March 2th, 1924, 31 129 miles:
Southampton, Sevilla,
Las Palmas, Saint-Vincent, Trinidad,
La Guaira - Caracas, Colón, Panamá,
Galápagos, the Marquesas Islands, Tahiti, Tonga, Suva-Viti Levu, Salomon, Caroline Islands,
Shimizu, Osaka, Tien-Tsin, Shangai, Hongkong, Singapour, Penang, Colombo,
Aden, Port-Saïd, Crete, Gibraltar, Southampton.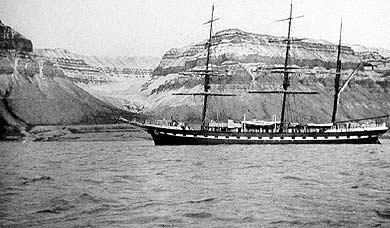 She will be also seen in Spitsbergen in the Arctic (photography above, on 1925), in France in Marseille, in Saint-Jean-de-Luz.
During the summer, 1930, Julien Chauvelon, 55-year-old, is invited on board while the Fantôme II made stopover in Nantes. One imagines the surprise of the former captain of the Belem when he discovered the alterations and the luxurious organizations which had considerably modified the aspect of the boat.
In 1937, the Fantôme II is in Montreal, for the celebrations of the coronation of George VI.
In 1939, Ernest Guinness died.